Leadership
Vikram Seshadri
Vikram brings a unique intersection of skills in embedded system's design, sensor networks, and big data aggregation, analysis, and processing. In addition to creating one of the most advanced RFID tracking systems for the Automotive Supply Chain, he has also designed and developed the first successful real-time integration between Android tablets with RFID readers. He is currently working on a number of initiatives with leaders in the Supply Chain as well as Healthcare verticals, to bring the benefits of user interaction and IOT integration with RFID systems.
Vikram is a graduate of the University of Maryland at College Park, and holds a B.Tech from the Indian Institute of Technology, Madras.
Larry Hufford
With over 35 years' experience in managing projects, Larry brings a vast and formidable experience in managing and coordinating large projects. His multi-disciplinary experience in manufacturing, construction, and logistics/supply chain give him the ability to weave together all those elements for successful, on-time and on-budget implementations time after time in even the most challenging environments.
His suggestions on process improvement and out-of-the-box ideas on RFID have been responsible for some of the most significant breakthroughs for Analytica. Larry is based in Springfield, Ohio, and is responsible for project management and RFID implementation worldwide. He also active in his community, and coaches football.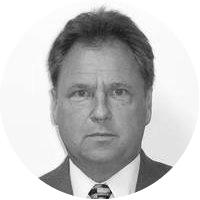 Scott Silver
Scott has spent a lifetime in manufacturing and supply chain - and provides the deep domain expertise that can come only from many (early) years spent working on a shop floor, and later in charge of large manufacturing operations across multiple locations. He provides a unique perspective based on his experience of managing complex supply chains with hundreds of vendors and scores of locations.
Scott is based in Springfield, Ohio.